222x3 is a Multiplayer level. This level travels through a few rooms with Weapons containing custom pickup messages. This level is intended for 5 players or less.
Quick Level Completion
Proceed forward to enter the next room.
Head up either Water column to reach the next room.
Turn around at the top, then go through the doorway in the upper left corner.
Go onto the Elevator to your right, then wait for it to ascend.
Turn left, then follow the corridor to the end.
Turn left to reach the next section, then follow it to a gap.
Jump over the gap, then proceed forward to exit the level.
Spawn Locations
Middle of single-fire room of Fire Section. (corrupt)
Pool of Water in Courtyard. (corrupt)
Middle of multi-fire room of Fire Section. (corrupt)
Middle of Water Column Room. (corrupt)
Important Item Locations
Weapons
Powerups
Room-By-Room Summarization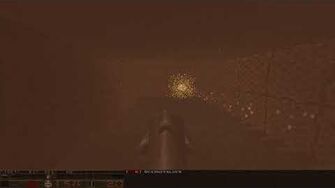 Courtyard
Water Column Room
Fire Section
Torch Corridor
Rocket Launcher at bottom of gap in front of exit. Upon taking, a pickup message will be displayed - "Kill Yourself".
Particle for Electric Terminal at gap in front of exit.
Exit at end of corridor opposite Elevator from Fire Section, exiting the level will cause the message "Have a Nice Day!" to be displayed.
Alternate Versions
Community content is available under
CC-BY-SA
unless otherwise noted.