Catacombs of Doom or Lair of the Phoenix is a Multiplayer level. It is very large in size, meaning 2-4 players will have trouble finding each other.
This level is inspired by a Doom II PWAD, though he could recall the name or author of the original file. The PWAD was a personal favorite of the group (not yet a clan) that Michael Traun was in.
Spawn Locations
Alcove of Caged Section, caged side, central staircase side.
Top Floor, between the two small corridors overlooking the bridges below.
Far corner of Multi-Doorway Room, Caged Section side.
Ring Room, corridors of upper floor.
Ring Room, alcove closest to Pillar Room.
Pillar Room, beside wall diagonally across from Nailgun.
Alcove of Mazes and Central Staircase near corridor leading to Pillar Room.
Ring Room, lower floor.
Top of Ramp Alcove.
Mazes and Central Staircase, upper floor near Rocket Launcher.
Blinking lights room above Pillar Room, allows access into room inside pillar.
Upper floor of Cage Section.
Mazes and Central Staircase, alcove closest to ramp closest to central staircase.
Large upper floor platform of Multi-Doorway Room.
Ring Room, near balcony overlooking Red Armor.
Upper floor room of Pillar Room.
Important Item Locations
Weapons
Powerups
Room-By-Room Summarization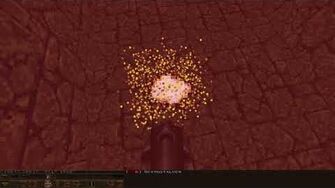 Cage Section
Ramp Alcove
Mazes and Central Staircase
Multi-Doorway Room
Top Floor
Pillar Room
Ring Room
Community content is available under
CC-BY-SA
unless otherwise noted.