The Abandoned Base is the third Deathmatch level of Quake and the only one designed by John Romero. According to Romero, this was the first level of Deathmatch Arena to be designed; he dates completion of this map back to January 17, 1996 [1].
Its name comes from it being the only level of the idBase Level Theme that doesn't have Enemies due to it being a Deathmatch level. The level is considerably large and has every Weapon in the game, plus nearly all the Powerups. This level does not have a Rune or Key due to being a Deathmatch level, but also is lacking a Biosuit or Green Armor. This level is one of the most popular Deathmatch maps packaged in the game. Due to the large size and balanced Weapons or Powerups, this level is considered by the majority of the Multiplayer community to be the best map for Team Deathmatches and Clan Wars.
Spawn Locations
At end of Teleporter Hallway, looking into Computer Room.
Corridor leading to Pit Room from Main Staircase Room.
Under staircase of Three Pillar Room.
Windowed alcove overlooking Large Water Room.
At end of Teleporter Hallway, looking into Main Staircase Room.
Hole at top of series of 3 Elevators in Courtyard, leads to hallway between the Computer Room and upper floor of Pit Room.
Important Item Locations
Weapons
Powerups
Room-By-Room Summarization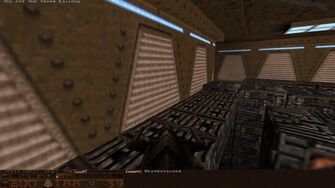 Computer Room
Main Staircase Room
Pit Room
Large Water Room
Three Pillar Room
Window Room
Window overlooks and allows easy access to Courtyard.
Courtyard
Trivia
According to John Romero, when given a choice, people often tend to take the path that goes to the right (it is assumed this has something to due with the majority of people being right handed). A skilled player can take advantage of this fact, creating a strategy to exploit this weakness. This was extremely common in DM3: The Abandoned Base in the alcove with the Yellow Armor. The skilled player could force another player underneath the stairs and into the Teleporter. Upon teleporting, the lesser skilled player will take a right, heading towards the Quad Damage. The skilled player, knowing this, could head up the staircase by the Double-Barrelled Shotgun. At the entrance to the Quad Damage side of the Pit Room, the skilled player could fire their Rocket Launcher and most likely hit the unskilled player who would be entering the opposite side of the Pit Room. [2]
The Slipgates in Quake were originally intended to be more elaborate to be "powered" by a Cray supercomputer. A deal was made with Cray that id Software would get one for $500k as long as the supercomputer was put in Quake, preferably all over the place. When the company was bought out in February of 1996 by SGI, Silicon Graphics, Inc, the deal was cancelled. The computer room was designed as a homage to the dream of working with a supercomputer. [3]
Gallery
References
Community content is available under
CC-BY-SA
unless otherwise noted.