The Dark Zone is the sixth and last deathmatch level of Quake. Every Weapon in the game can be found in this map. Teleporters link many of the rooms together, plus a second floor exists that overlooks a good deal of the map. It used to be arguably the most popular Deathmatch map as it was considered to have a great balance due to a very limited amount of Ammo and Armor, though popularity for this map has somewhat waned while still retaining a relatively large fanbase for 2 player matches (1 vs 1). The prior popularity of this level has allowed numerous people to become extremely skilled in this level in particular, which has deterred some players.
Spawn Locations
Important Item Locations
Weapons
Powerups
Room-By-Room Summarization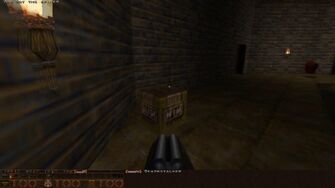 Large Staircase Room
Central Room
Subterranean Room
Shaft Room
Small Staircase Room
Community content is available under
CC-BY-SA
unless otherwise noted.