Basin or Basin DM is the first level of DEATHMATCH Maps. This level is considered by Jim Lowell to be his first serious attempt to make a level in THRED. This level mainly consists of a single room with multiple levels, the bottom being submerged in a pool of Water. A .3DT version of this map is included with THRED as an example file.
This level has a Level Exit, a Teleporter, which can be easily accessed by hopping over a small barrier. The level incorrectly links to ASDM02 instead of DMAS02.
This level is a slightly modified version of the original version, Entering Basin. Unlike the aforementioned level, there is a music track, The Journey. Due to the Aftershock Level Theme, the Movable Wall on the top floor is also a proper Door. There is also no custom message upon exiting the level.
The Aftershock Toolbox comes with a modified version of this level that properly goes to DMAS02: DeCarlo. This file is intended to be used with the original Aftershock for Quake since DMAS02 is not provided in the Aftershock Toolbox.
Quick Level Completion
Proceed forward to head off the platform and drop into the Water.
Turn around, then go through the doorway to your left to reach a small room.
Proceed forward to reach an Elevator.
Wait for the Elevator to ascend, then turn around.
Proceed forward and head through the Door.
Jump over the small barrier, then proceed forward to exit the level.
Spawn Locations
Important Item Locations
Weapons
Powerups
Room-By-Room Summarization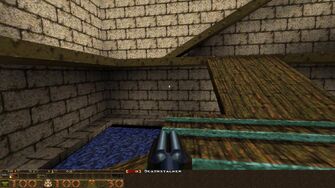 First Outer Lip
Central Platform
Second Outer Lip
Top Floor