Doom 1 - Episode 1 - Map 1 or D1E1M1 is a Multiplayer level. There is no in-game name for this level, the name comes from documentation included with the file.
This is the first level made by Andy House, designed to be vaguely similar in geometry to E1M1: Hangar from Doom. As the level just was compiled with BSP, there are no lights in the level, nor was the VIS done which means numerous visual errors can occur.
Spawn Locations
4 Pillars Room, side near window to Main Courtyard, opposite side from doorway to Water Alcove Room.
Main corridor of Dual Window Room.
Side room of Slanted Platforms Room.
Water Alcove Room, opposite side from ledge.
2 Pillar Room, upper floor.
Main Courtyard, upper floor.
Important Item Locations
Weapons
Powerups
Room-By-Room Summarization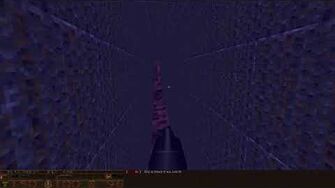 Main Courtyard
4 Pillar Room
2 Pillar Room
Water Alcove Room
Slanted Platforms Room
Dual Window Room
Community content is available under
CC-BY-SA
unless otherwise noted.