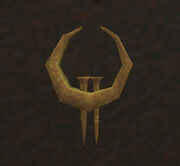 "
Like the Quad Damage, this item doubles the damage you inflict on your enemy with any weapon.
"

—Ground Zero Manual
A half-strength Quad Damage power-up, Double Damage still grants a significant advantage to its user, but doesn't make them quite the unstoppable force that a Quad-powered player represents. It is likely intended to prevent Quad-fueled runaway victories in multiplayer, though it appears in single-player as well. It is most-likely intended as a method of artificially increasing the difficulty. It lasts for 30 seconds.
In other games
Edit
Quake III Revolution
Edit
It appears in QIII: Revolution, multypling player damage by 2, it is rarely found in game, new players may see it only at House Of Pain, it will grant a victory because the double damage respawn at 5 minutes.
Strategies
Edit
When using it. For example, Super Shotgun can take a Berserker out in one full hit, a Gladiator with two direct hits, a Daedalus with three and a half hits, and a Tank with four full hits. The Railgun is augmented by Double Damage, it delivers 300 points of damage, in this case a single shot will kill sighted enemies like Gunners, Turrets, Parasites, Iron Maidens, Technicians, Stalkers, Mutants, Medics and Icari. Heavy enemies like the Medic Commander will die in two direct hits. It takes four hits to keep the Tank Commander out of commision. And finally, 10 slugs will take down a Carrier.
References
Edit
Community content is available under
CC-BY-SA
unless otherwise noted.