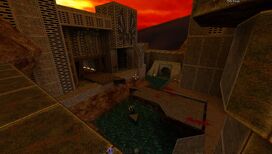 KMQuake 2 is a Quake 2 Source port created by Knightmare. The goal of the sourceport was to lessen limitations for mappers to use in their custom maps. Along with that, the source port has also many new rendering effects such as shadows, dynamic lights, high-res texture support, improved interface, and more features.
KMQuake 2 comes with the Lazarus mod, which enhances map features. Also included is the Ace Bot II mod and 3 Team CTF mod.
A downside of KMQuake 2 is the custom mod support. Mods need to be compiled for compatibility with KMQuake2. The included documentation helps the user to do the steps.
Features
[
]
Improved limits and map limits
High-res texture support
Dynamic shadows
Improved interface
Built in Ace Bot 2 mod
Built in 3 Team CTF mod
Decal support
New effects
Support for 44 khz and 48 khz sound
Support for more than 1024 entities active in a map
Maps can extend beyond the +/- 4092 coordinates when compiled with KMQBSP
Support for external music
Download
[
]
KMQuake 2 can downloaded at Mark Shan's quake 2 page here [1]