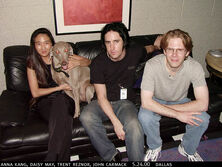 Michael Trent Reznor (born May 17, 1965) is an American song writer and song composer who founded his own band called Nine Inch Nails in 1988.
Reznor and his band created the Soundtrack for Quake and he selected the sound effects for it after having recorded both. He also completely voice‐acted Ranger.[1]
According to John Romero, Reznor saw the game and he knew where to go musically. He also could have been inspired by his friend's music because id Software told Reznor that they liked it.[2] The logo for his band appears on the Nail boxes in Quake as a tribute.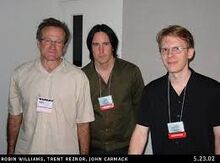 References
↑ Tweet by John Romero where he stated, 'Trent Reznor did all the player sounds.'
↑ interview with John Romero where he stated, 'Yes, I'd say he saw the game and knew where to go musically. And yes, he could have been inspired by his friend's music because we told him we liked it.'